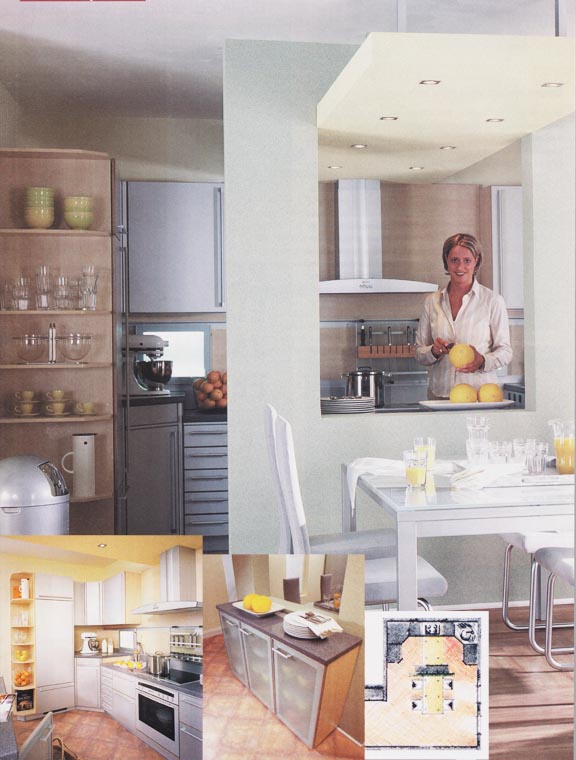 The area may be open, yet discreetly separated – there is no contradiction in this, this confirms the solution presented here. An open wall segment and a panel suspended from the ceiling with built-in lighting create a successful combination of two rooms.
Often you have to overcome various types of barriers between the kitchen and the dining room. Both areas are usually separated by doors, and often the household members still have to overcome quite a long distance between the stove and the table. You can avoid this kind of inconvenience by properly arranging the interior, to make the room more comfortable and friendly to the residents.
The arguments of supporters of a kitchen with a door are known, their main concern is to prevent kitchen odors from spreading throughout the home. However, said smells need not be unpleasant at all. Another argument raised by supporters of a closed kitchen is the fear of guests looking into the pot, they forget, that the very process of cooking or preparing a meal may interest the guests
and provide an opportunity to continue the conversation started at the table. The exchange of culinary comments can also be interesting. The opponents of the open kitchen also argue, that it forces the hosts to keep cleaning, however, honestly, this is a plus rather than a minus.
People's voices should not be underestimated either, which they believe, that the kitchen is the coziest room in the house. Many guests share the same opinion, who are happy to sit at the kitchen table after the meal is finished, because they feel good in this place. All these wishes are understandable, only question, why the kitchen must be closed?