The lift door or lift vestibule should have a fire resistance class of not less than half the fire resistance of the walls, and the fire lift shaft should be equipped with smoke extraction devices in accordance with the regulations.
The fire resistance of building elements and the degree of fire spreading in them are determined on the basis of tests or opinions of authorized scientific and research institutions.. Depending on the test results, building elements are classified as: non-spreading fire (NO), poorly spreading fire (SRO) and strongly spreading fire. Materials are divided into non-flammable and flammable. Combustible materials are divided into non-combustible, hardly flammable and easily flammable.
In order to prevent the spread of fire, buildings should be divided into fire zones. Fire zones may include terrain, on which construction objects are located or may relate to the buildings themselves. In buildings, belonging to the category of danger to people, each floor is separated from another floor in a way that protects against fire penetration. The figure shows, how the separation of fire zones in buildings can be made.

Fire partitions: a) vertical wall, b) ceiling and wall, c) ceiling; 1 - wall, 2 - ceiling.
In rooms, where people may stay, there is a safe exit leading directly to the open space or directly or indirectly on the horizontal or vertical general communication routes, the so-called. escape routes. Stairs are used to evacuate people, ramps, ladders, gallery, crossings and cranes.
Stairs and ramps used for evacuation purposes should be enclosed with walls and ceilings of the fire resistance class required for load-bearing walls and ceilings of a given building. Cranes, which were intended for the evacuation of people, must be adequately separated in accordance with the regulations.
Depending on the category of threats to people, the permissible length of escape routes is specified in the table.
Permissible lengths of escape routes.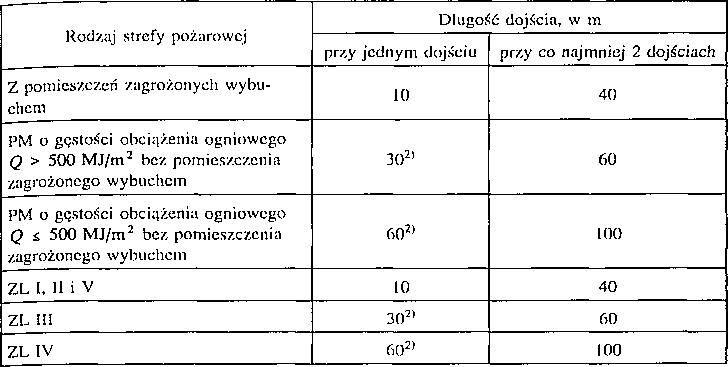 1) Dla dojścia najkrótszego, however, for the second approach, the length greater by 100% from the shortest. These approaches may not overlap or cross each other.
2) W tym nie więcej niż 20 m on a horizontal escape route.