The easiest way to make stairs is to arrange the boards vertically, Halved Okraglaki, slabs or curbs, which form the foam walls of the step and prevent the soil from sliding. The boards and the like are held in the foam position by hammered in. pins, while slabs or curbs are welcomed to be buried to a certain depth. Stairs with steps made in the manner described can be improved by sprinkling the surface of the steps with aggregate of various kinds. The described type of stairs can only be built on sufficiently permeable land. On impermeable soils, they can be easily destroyed by washing away with running water.
Stairs with steps strengthened vertically and horizontally are better and more durable. Most often they are built of curbs and concrete slabs. Vertically positioned curbs form the foot of the steps, while the surface of the steps are slabs.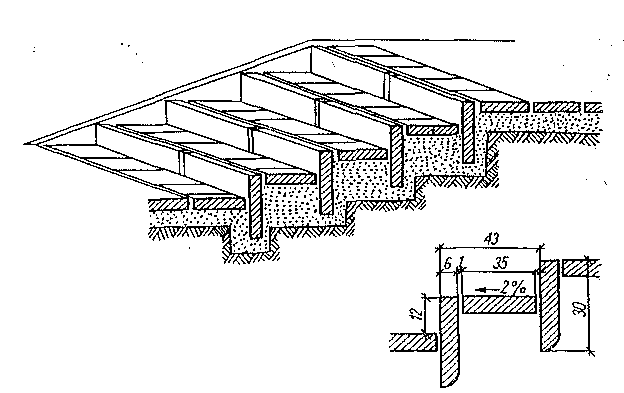 Stair steps made of curbs with dimensions 6 x 30 x 75 cm and concrete slabs 35 x 35 cm.
The stairs made in this way are quite durable, but their disadvantage is the significant unevenness of the steps, a large number of slots, in which weeds can settle, and not very aesthetic appearance.