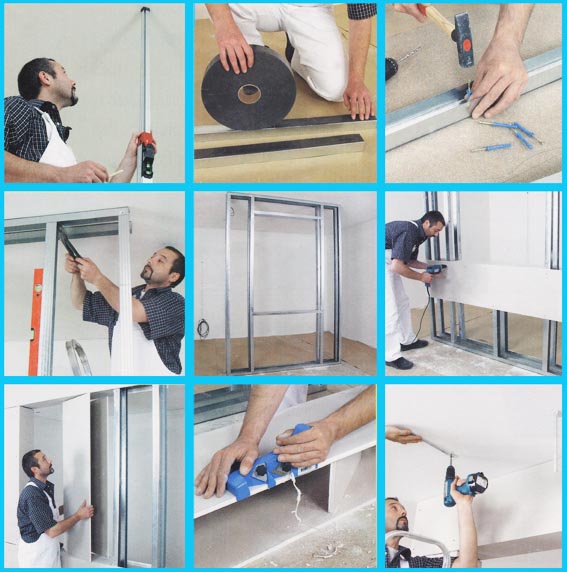 1. A telescopic measuring device with a built-in spirit level enables precise marking out of the structure fixing points. Alternative: traditional plumb.
2. Profiles constituting the structure of the partition wall, adjacent to the ground and the ceiling are covered with sealing strips, providing sound insulation.
3. After spreading the profiles on the floor and drilling holes, fixing pins are put in place. First, the ends are fastened, then the middle (max. space 1000 mm).
4. CW profiles are used to make vertical posts. Each part of the frame consists of two metal rails fastened with clamping tongs.
5. The transverse connections delineating the partition wall opening are made of UW profiles. If the length of the transverse profile exceeds 625 mm, then…
6…. an additional support from the CW profile should be made inside (visible here under the plasterboard). The cut-to-size boards are fixed with screws.
7. Here you can see exactly how the complex plate elements are applied to the metal structure. After that, it is enough to complete one narrow side with a piece of board.
8. The edges of the boards butt jointed with another board need to be slightly chamfered with a manual plane. The resulting joint can then be grouted more effectively.
9. Time to attach hangers to the ceiling, on which the ceiling element will be attached, optically connecting the kitchen with the dining room.
If you want to please everyone, you can choose such a variant of spatial development, which would connect the kitchen and dining room in a sophisticated way, make them one despite having different functions. The concept is there, so that the separate kitchen creates a whole together with the dining room. All kitchen cabinets are located in a U-shape at the back of the room, while in the middle there is a neat wall segment made of gypsum boards, which breaks the free view of the kitchen, and emphasizes architecturally the boundary between the two zones. The functional partition wall is also eye-catching when it comes out of the kitchen, suspended ceiling element, which extends beyond the wall like a bridge and creates a roof over the dining room table. Big, a rectangular opening in the wall softens the effect of dividing the room and facilitates verbal communication and serving meals straight to the table. While sitting at the table, you can also discreetly observe the kitchen stove, keeping an eye on, so that nothing gets burned. When starting the modernization of the kitchen, you need to pay attention to the color matching of all elements. Here, care has been taken, so that the entire structure gives the impression of lightness. Bright colors follow this concept, pastel shades, and even kitchen furniture, walls and floor with subdued patterns – all of these together form a coherent whole.