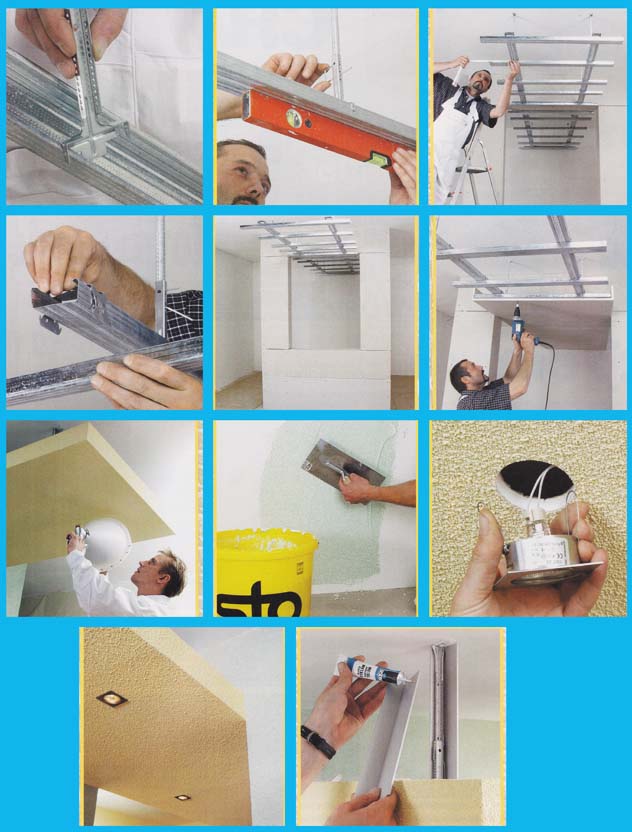 10. The photo shows the second part of the adjustable hanger, which is placed on the suspended CD profile, by attaching it to the ceiling.
11. Using a spirit level, the exact height of the suspension is determined. After the profile is leveled, the safety clamps are inserted into the holes.
12. The structure for the ceiling element rests at one end on a rail attached to the kitchen wall. The cross tees are attached at equal intervals.
13. The cross profiles are attached by means of such cross joints. The maximum distance between the supporting profiles is 500 mm.
14. This is how the whole thing looks unfinished. 0 this, how far the ceiling element should protrude was determined by the size of the dining room table.
15. Pre-fabricated board housing with dimensions: 100 x 1000 x 100 mm serves as a cladding for the ceiling element. You can cover it with a plate to prevent dust accumulation.
16. After grouting the butt joints and the places where the screws are fastened, the whole thing was ground and covered three times with a thin layer of noble plaster.
17. Also, a thin layer of mineral plaster without solvents was applied to the partition wall. Later, the surface was slightly smoothed.
18. If we decide to install lighting, it is necessary to cut the holes for the fittings in advance, which have self-securing handles.
19. In the ceiling element shown here, a total is assumed 8 lighting fixtures, 4 illuminate the kitchen area, and the rest of the dining room table.
20. The last step: the adjustable hanger is concealed by a casing made of aluminum angles (dimension: 50 x 30 mm), which are joined with metal glue.
Now let's move on to the construction and assembly issues related to the modernization of the kitchen. The light partition wall is made of metal profiles and gypsum boards. The construction made of panels requires very high accuracy, and all edges and contact edges must be carefully plastered.
In order to minimize the amount of work associated with plastering and matching the panels, partially ready-made elements can be used. They are e.g.. gypsum boards equipped with milled V-grooves. You only need to bend or glue them, to get the shape you want. These types of plates are generally available in various widths and standard lengths from 2000 do 2500 mm. They are perfect for any type of construction, because they ensure a clean edge and reduce the number of welds.
The plates with a hollow groove were also used to make the partition presented here, constituting an element uniting the kitchen and dining room, and at the same time guaranteeing a discreet cover for the kitchen.
The presented solution will certainly satisfy both supporters and opponents of the open kitchen and dining area.