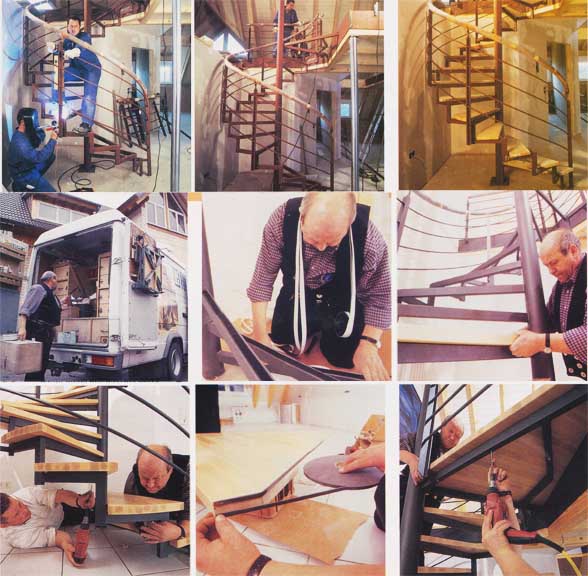 10. ..a potem przyspawane. During work, several magnetic vials are used. The welds will then be carefully ground.
11. Now the fitters put a railing on the gallery. T-bar posts are attached to the steel cladding around the ceiling part.
12. The entire structure is ready, it only requires a final paint coat. Provisional steps were installed until the renovation was completed.
13. After the modernization works in the house have been completed and the steel structure of the stairs has been painted, the appropriate steps can be installed.
14. The fitters start by wrapping the supports with insulating tape, to prevent vibration from being transferred to the structure, arisen arriving.
15. The individual steps were made in the factory in accordance with the drawing. Now they are tried on the brackets and will be mounted from the bottom up.
16. Each step is fixed at the bottom with four screws, through the cantilever and the outer cheek. Glued beech wood looks impressive here.
17. After attaching all the steps, you need to try on the last landing. In place of, where its face meets the gallery, insulating strips are applied.
18. After that, it is enough to determine its exact position and attach it to the steel structure. The stairs are ready and can be handed over to the user.
After delivering all the elements to the assembly site, the first step was to make the ceiling opening, because the structure of the exit platform will be welded to it. In this way, the first point of attachment of the stair column was created, whose floorboard was later attached to the unfinished subfloor. Special pins were used for fixing, vibration-free and neoprene pads are used.
Now the brackets are attached to the stair pole along with the outer cheek, the individual fragments of which are mutually welded. The precision of the connections is each time controlled with several magnetic vials. Then the handrail is attached and the provisional steps are put on, which will be used until the completion of renovation works in the building. Final action: after the entire structure was painted anthracite-gray, the assembly of nice steps made of glued beech was started. Each step is attached to the bottom with special screws.
The type of wood used to make the steps and its color, you can choose at the very end of the renovation. The investor sees it then, how the whole interior looks and it is easier for him to choose the right wood.