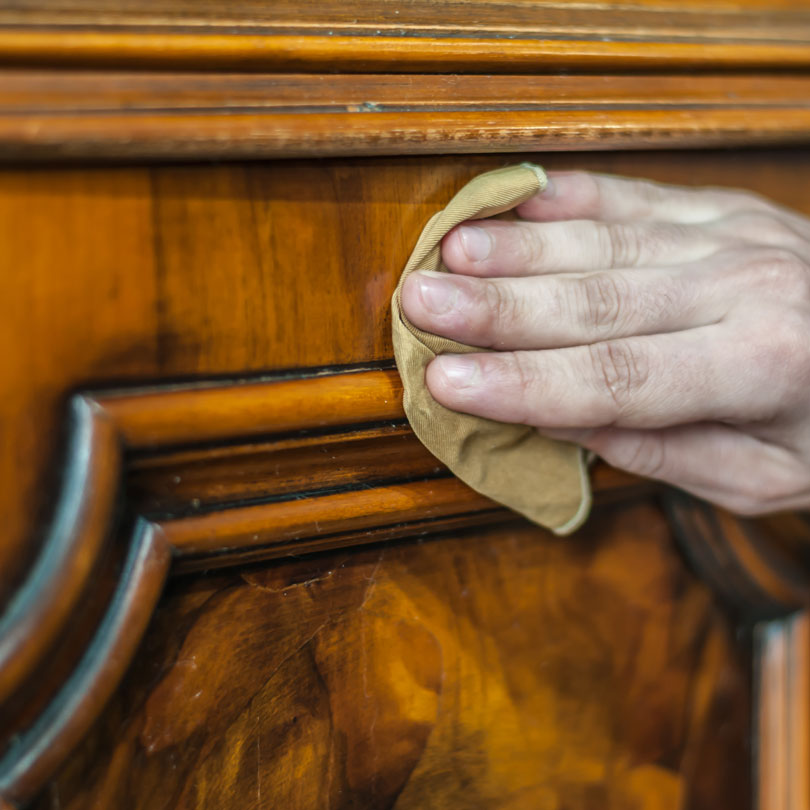 How to clean wooden furniture and upholstery with home methods?
When trying to remove stains and dirt, be especially careful and start with the mildest methods. It is better to repeat the same procedure, which is harmless to the furniture, several times, than one-time use drastic. In stores, you will find a lot of products for removing dirt from furniture, However, it is worth starting with home methods, while remembering about proper ventilation of the room.
Remove greasy fingerprints with a damp, well-wrung cloth soaked in water with a small amount of soap flakes. After washing, the surface of the furniture should be wiped dry.
Traces of hot cookware are usually white stains that indicate the destruction of the outer wood coating. We remove them with a metal polishing paste, rubbing it in with quick movements in the direction of the grain. Then we apply a little wax. It is best to polish small parts of the stain and immediately wipe off the wax after applying it.
Smooth rough surfaces with fine steel wool dipped in liquid wax. Special care must be taken with veneered furniture.
Remove traces of liquids in a similar way, like white stains from hot dishes.
Mask scratches on the surface with a colored wax crayon or shoe polish. Wait before polishing, until the agent is absorbed.
Clean alcohol stains with a metal polish, rubbing it in the direction of the grain, then we put some wax on.
All upholstery must be regularly vacuumed to remove dust and dirt from bends and cracks. It is also worth remembering the following rules:
Agents against dirt and stains make, that the spilled liquid will not soak into the material, but in the form of droplets it accumulates on its surface.
Decorative protectors can be placed on the backrests of sofas and chairs, for example, lace, giving the interior a trendy retro style.
Bedspreads on the furniture protect them against dirt (This is important, if there are pets or young children in the house).
Backrest protectors and armrests on sofas and armchairs protect the places most exposed to damage.
Covers and bedspreads are usually easy to remove and wash.
Leather upholstery
To remove slight stains, just wash the leather upholstery with a little water, taking care, so as not to wet the skin too much. Vacuum larger dirt, then we use leather soap or any other cleaning agent for leather surfaces. Before the sofa or armchair cleaned in this way can be used again, you have to wait, until the furniture is completely dry. If the skin begins to crack or feels dry, we can spray it with leather conditioner, but first, let's check in an inconspicuous place, how does the purchased agent affect the color of our upholstery.
How to remove dents in wooden furniture?
Dents in wooden furniture are removed by placing it on a damp dents site, a thick rag, and then placing the tip of the hot iron directly on the dent itself. The steam will penetrate the crushed wood and cause it to swell. Then the area can be polished again.