Attachment of accessories
Bathroom equipment, such as soap dishes, towel rails or toothbrush holders, fastened with screws or glued to the glaze. Objects with a ceramic base the size of one or two tiles are attached with ordinary tile adhesive.
Attach one or two tiles (depending on the size of the base of the device) without pressing too hard.
Po 48 For hours, peel off the tiles and apply glue to the base of the device. Leave it on 48 hours to dry, additionally fixing with adhesive tape. Finally, remove the tape and fill the gaps with adhesive.
You will need an electric drill with a tiling drill bit to drill a hole in the ceramic tile.
Do not try to drill a hole directly in the glaze, as the tip of the drill bit may slip. Cover the place with plaster and only then start drilling.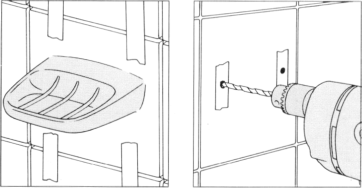 Glue mounting
Stick the device to the wall and fix it with adhesive tape, which you take off after drying.
Screw fixing
Drill a hole in the covered tile, to put the plastic pin under the screw.