Sticking mirror tiles
Before gluing, check, whether the wall surface is dry, clean and perfectly even. If the substrate is porous (plaster, wood), they need to be sealed with a layer of oil paint. Then the wall must dry 72 hours. If the wall is papered, you need to carefully remove the veneer. If the wall is cold, it will be good to keep her warm, to increase the adhesion of the glue. A freshly plastered wall must dry thoroughly. To achieve a satisfactory effect, mirror tiles must adhere perfectly even to the substrate. Mark the guidance lines. If there are no self-adhesive strips on the bottom of the tiles, they must be purchased separately. Try to avoid other adhesive materials, as they can cause discoloration. Mirror tiles should not be put on cement mortar.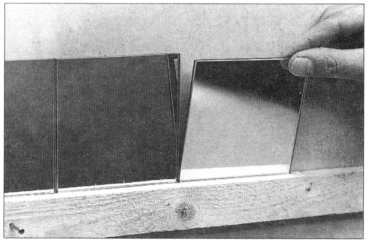 Sticking tiles to the wall
Check it out, whether the wall is perfectly even, by applying a plywood or chipboard at various points. Surface unevenness will make, that the reflection will be distorted. Arrange the tiles in horizontal rows, starting from the bottom. Leave a tiny gap between the tiles.