The roof covers the building and consists of a load-bearing structure, the so-called. roof truss and covering. The main elements of the roof truss are the roof trusses. There are solid trusses placed at intervals of approx. 3,0-4,5 m and empty trusses spaced between them at intervals of approx. 0,8-1,2 m. Patches or boards are attached to the trusses, which are the undercoat of the roofing material. The essential elements of roof trusses depending on their structure, are: rafters, mayflies, tongs, stools, purlins,struts and beams.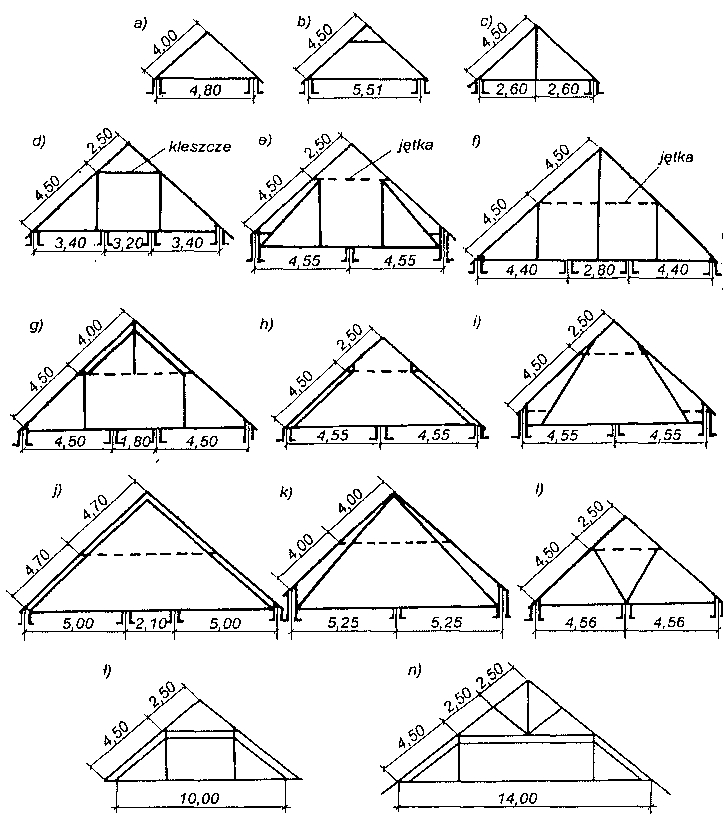 Types of gable roof trusses - roofs: a), b) chairless, c) with a single stool, d) collar-type or purlin-tick-type with a double stool, e) /c with a double stool and knee wall, f) with a triple stool, g) with a triple stool, the upper stool is suspended, h) with a double lying stool, i) with a double lying stool and a knee wall, j) with main rafters, k) with main rafters and a knee wall,l) with goat stool, Ł), n) about a hanging double stool.
The figure above shows the diagrams of the most common wooden gable trusses, which were created through the centuries of their development, both aimed at reducing the consumption of wood, and for better use of the attic. On the other hand, the figure below shows diagrams of carpentry structures - trusses with columns - which were used in single-storey hall-type buildings. Such a large variety of design solutions was dictated by the builders' desire to obtain covers with the largest possible span.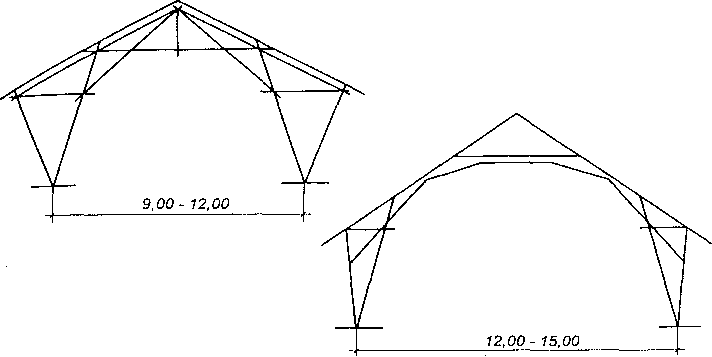 Schemes of carpentry frame structures of hall buildings with a span 9,0-15,0 m.