Temporary buildings are usually made of prefabricated slab elements. These boards consist of a wooden skeleton, inner and outer and inner layers of textured panels! insulating. The external and internal walls of the building, floors and flat roofs are made of the boards. Roof slabs (roofing) are placed on trusses made of boards.
In recent years, for the sake of saving wood, solutions for temporary buildings made of light metal structures with curtain walls have been used, mostly multi-layered.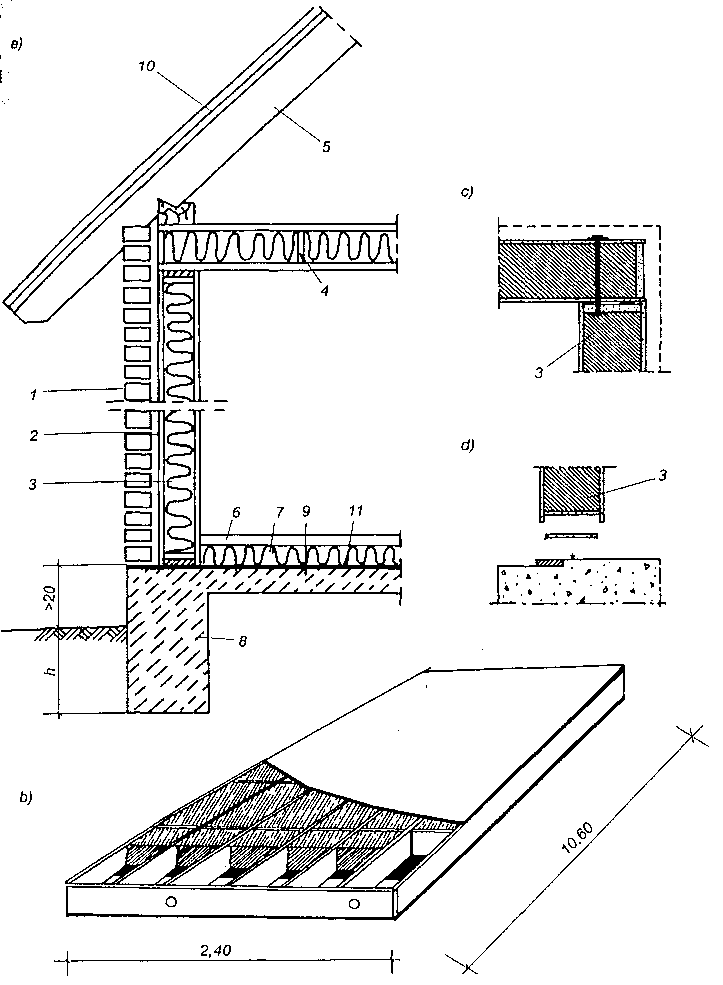 Construction details of the Swedish type building: a) vertical section, b) ceiling slab, c) detail of the connection of wall panels in the corner, d) detail of the wall support on the foundation; 1 - brickworking, 2 - air void, 3 - wall plate, 4 - ceiling slab, 5 — krokiew, 6 - floor, 7 - thermal isolation, 8 - foundation, 9 - concrete substrate, 10 - chipboard and roof covering, 11 - anti-moisture insulation.
The figure shows the type of panel construction intended for permanent residence of people. This type of construction is widely used in the Scandinavian countries, especially in Sweden. The building is being assembled, from prefabricated plate elements. External and internal walls are made of large-size panels, whose length and width correspond to the length of the building, and the height corresponds to the height of the wall.
The wall elements are made in layers. The outer layers are fibreboards (chipboard) connected with each other by transverse and longitudinal ribs made of the same plate. Inside, between the plates, mineral wool insulation is laid. Chipboards are connected to the ribs with glue and a small number of nails. Electrical installation wires are laid inside the insulating layer. The structure of the floor slab is shown in Fig. B.
The floor slabs rest on the wall panels, whose length equals; the width of the building or the spacing of the walls. I will make internal wall panels - they are the same, as outdoor with or without thermal insulation. Wall and ceiling panels are connected to each other with screws. The roof structure consists of collar beam trusses. Fibreboard is nailed to the rafters from the outside (chipboard), on which the patches and the tile rest. From the outside, the walls of the building can be clad with wooden boards or thick ceramic brick 12 cm.