Wooden ceilings.
There are ceilings: above the basement, inter-storey and attic.
Wooden ceilings were widely used until the 1940s. both in wooden construction, and brick. Recently, these ceilings are mainly used in wooden temporary and single-family residential buildings. The most common ceilings in wooden and brick construction are shown in the figure.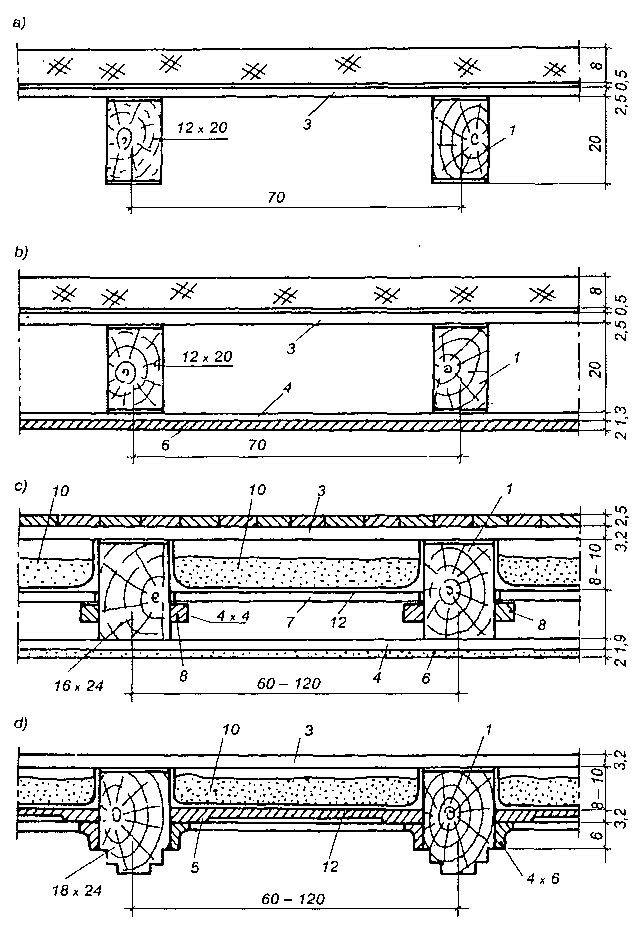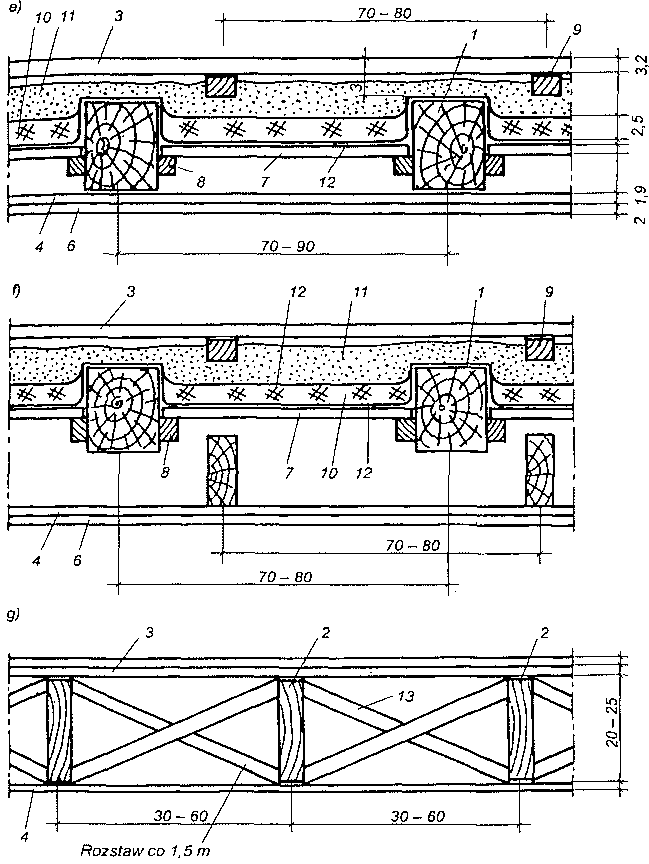 Beam ceilings: a) insulated naked ceiling, b) ceiling with soffit insulated from above, c) ceiling with a blind ceiling, d) ceiling with decorative coating, e) joist-slat ceiling, f) double silent ceiling, g) log ceiling stiffened with diagonals; 1 - ceiling beam 12×20 do 18 x 24 cm, 2 - log beams 5 x 15 do 5 x 30 cm, 3 - sub floor, 4 - roof lining made of thick boards. 13-19 m or from wood-based panels, 5 - decorative wall boards, 6 - plaster on reed mats, 7 - blank board thickness 25 mm, 8 - slats 40 x 40 mm, 9 — legary 50 x 70–50×90 mm, 10 - polepa, 11 - sand, 12 - tar cardboard or roofing felt, 13 - diagonals 25 x 70 mm.
The bare ceiling is the simplest in terms of construction (Lynx. a), which is mainly used as an attic ceiling in residential and farm buildings. Thick boards are nailed to the beams from above 25 mm, if the beam spacing is less than 1,0 m, or thick planks 32 mm, if the attic is used, and the beam spacing is not greater than 1,20 m. The boards are joined together with a tongue and groove, on a rebate or on a strip.
In residential buildings, a sloping insulation layer is placed on the ceiling boarding (mixed clay with chaff) thick 10-15 cm or from insulation boards, e.g.. mineral wool, etc.. Paper is placed on the boards for the roofing and other insulating layers, cardboard or tar paper.
The ceiling with soffit insulated from above is better in terms of insulation than the bare ceiling (rys.b). The soffit can be made of planed boards, as decorative, or made of lime-gypsum plaster on reed mats nailed to boards. Depending on the spacing of the beams, the soffit is made of thick boards 19 mm or 25 mm.
In multi-storey buildings, inter-story ceilings with a blind ceiling and soffit (rys.c) or with a decorative cover (rys.d). The ceiling and the decorative ceiling are made of thick boards 19 mm or 25 mm on the battens nailed to the side of the beams in the middle of their height. Planks of a worse quality are used for the blind ceiling than for the decorative ceiling.
In traditional ceilings with blind ceilings, a roofing layer was used as an insulating layer. In newer solutions, particle-cement boards can be used instead of a blind ceiling and insulation made of polyp., gazobetonowe, fibreboard or mineral wool mats.
Joist-strip ceiling (rys.e) it was widely used in both traditional and residential construction, as well as another destination. In these ceilings, the joists are placed on a sand or slag bedding, and the blind floor is raised approx. 3 cm above the top surfaces of the joists. As a result, vibrations from the floor are not transferred directly to the beams. Ceiling beams and boards of the ceiling are separated from the bedding and bedding with roofing felt.
Double ceiling (called quiet or school) shown in fig. f is used to improve the acoustic conditions. The upper ceiling is load-bearing and does not differ from the joist-strip ceiling, the lower one is self-supporting. The vibrations of the upper floor are not transmitted to the lower floor.
In frame buildings made of logs, the ceilings shown in Fig. G are used, which can be both as attic ceilings, and inter-storey. Log beams with a cross section of 5×15 cm do 5 x 30 cm are set in increments 30-60 cm and stiffened with crosses with battens spaced every 1,5 m along the length of the ceiling. ,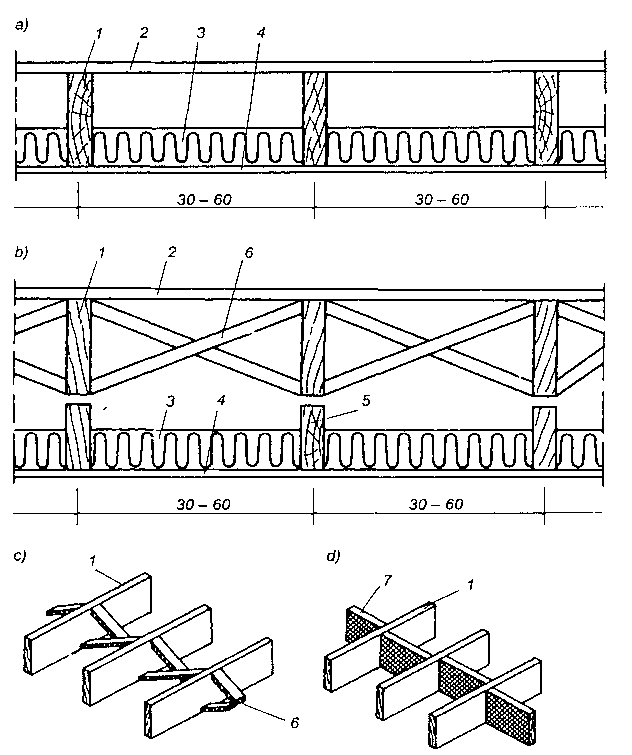 Bali ceilings: a) ceiling with thermal insulation, b) double ceiling with thermal insulation, c), d) details of the stiffening of the beams; 1 - 5x log beam 15 do 5×30 cm, 2 - sub floor 7. boards, wood-based panels or plywood, 3 - mineral wool insulation, 4 - fireproof soffit made of gypsum boards 5 - double floor beam 5×15 cm, 6 - cross brace 25 x 75 mm, 7 - thickness board 25 mm.
In older solutions, the sub-floor and soffit were made of planks, while in the new, like for example. Canadian type, the sub-floor is made of plywood or a hard board made of wood-based materials, and the soffit is made of gypsum boards attached to the bottom of the beams (rys.a).
Figure b shows a double floor (silent) - mineral wool insulation placed on the soffit; the floor and the soffit transfer the load to two independently working beams. This ceiling is mainly used in multi-family buildings. In single-family houses, thermal insulation in inter-story ceilings is usually not used. If you need it, it can be placed on the roof lining (Lynx. a).