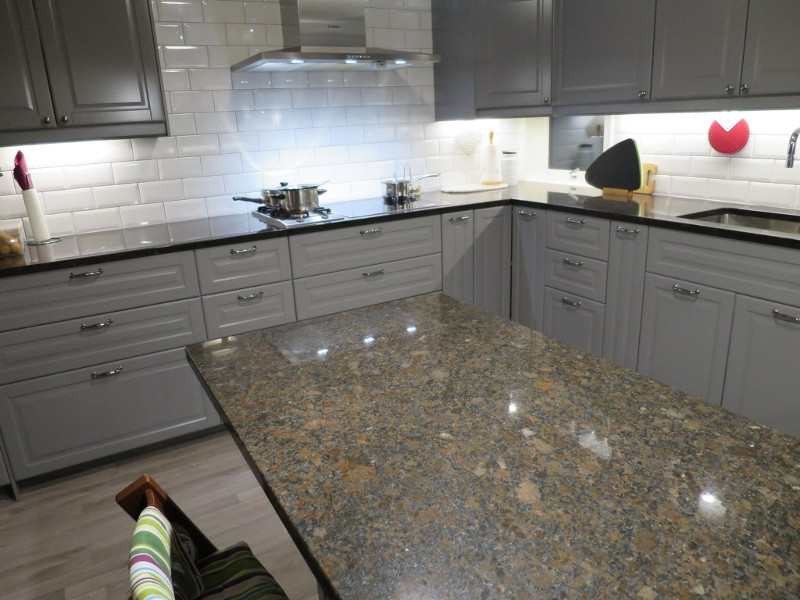 How to care for granite countertops?
Granite countertops are extremely durable and 98% highly resistant to dirt. Keeping the granite countertop clean is no problem. Kitchen stone countertops do not absorb ugly odors and additionally fat, do not become stained or lose colour. When the table top is installed and glued by our company, the assembly specialist carefully, secures the table top by covering it with an impregnating means as well as informs the customer regarding the proper use of the kitchen granite countertop. We should also be interested in it ourselves and, optimally, wash it once a day with mild care substances e.g.. mild vascular fluid. It is also advisable to stock up on suitable liquids, pastes and stone purifiers, once that they clean moreover they will take care of our kitchen stone countertop and also cause, that polished surfaces are characterized by a beautiful
gloss effect. As soon as the kitchen worktop is removed, the rest of the water should be completely removed with a cotton cloth, microfiber or flannel. In this way, the gloss of the granite countertop can be exposed above it can slow down the formation of. We have to do this often because the left-behind sleds are harder to remove. It is not recommended to use any soaps because soap residues can settle on the countertop, this unfortunately destroys the polished surface. especially hard work they need countertops with a matte surface because they can be more difficult to clean, when you forget about care. Since the surface of the kitchen granite countertop is covered with pores, once every year we recommend using impregnation, which allows you to permanently use the table top. granite protection agents penetrate deep into the surface of the stone, clogging its pores. As a result, the granite surface is resistant to products such as, Drinks, Juices, Alcohol, Cosmetics, Cleaners, Coffee, Food, or fat. Over time, this measure is washed out. You can get to know this after, that all sorts of water and liquids that are on the countertop are absorbed much faster by granite. In this case, it is recommended to re-impregnating the, then the table top will recover the previous flash again.