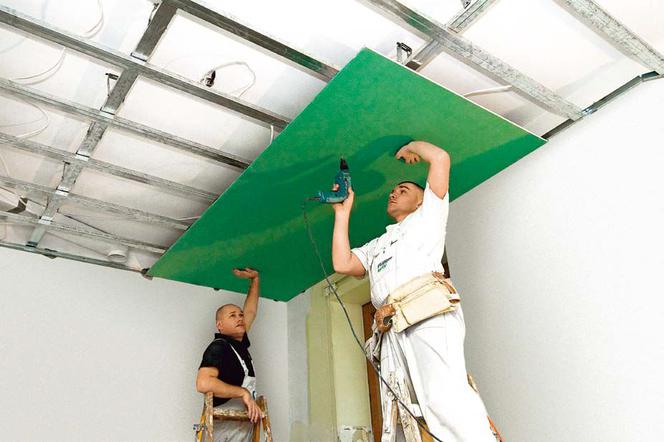 Is it worth investing in a suspended ceiling?
Suspended ceiling is a modern and functional construction solution for our home. It has many advantages, therefore it is worth considering, will it not work with us. But are you sure?
Of course it is! Suspended ceilings are a nice finish to interior design, in addition, they are relatively cheap and easy to install. This solution will make it easier for us to hide installation cables, will allow for the possibility of interesting interior lighting, and above all, it will allow you to refresh a given room and give it a completely new character. Due to the smooth surface of the boards, suspended ceilings do not differ much from a traditional ceiling, can be painted in any color, as well as modeled in any shape, provided, that we will use plates covered with glass fiber on both sides. In addition, using the appropriate type of plate, this type of solution can be installed in any room.
To install such a ceiling, we will need a frame. It is selected depending on the size and shape of the room. We can choose from three types of frames. The first is a one-level one-way room for long rooms. It is the simplest version of a ceiling on a steel frame. The second - two-level cross is designed for rooms with a large area. Its properties include a significant lowering of the room. The third type is a single-level cross rack. It is easy to level and has many anchoring points in the ceiling, thanks to which the drywall mounted on it have more support points and are therefore less exposed to damage.
The production of a suspended ceiling itself is not difficult and consists in attaching plasterboards to the supporting structure. It consists of hangers, connectors and sections, such as CD and UD profiles, which allow you to set the ceiling surface taking into account the desired form. The multitude of forms allows you to precisely match the appearance of the ceiling to the needs of the selected arrangement. We are limited only by our imagination, so that everyone will find something for themselves.