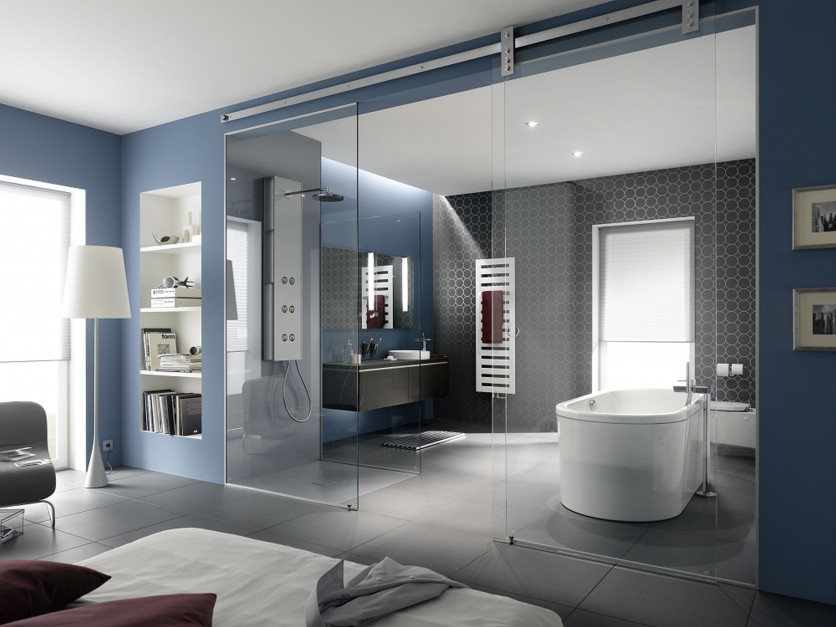 The bathroom is open to the bedroom, what do you say?
What do you think about this solution? I will be honest, that when I watch ready-made stylizations of this kind, I like it very much, but I would probably not choose such an arrangement in my home.
It seems to me, that it would be safer to make a bathroom next to the bedroom but as a separate room, but also in such a style that the bathroom is not so cold, but more cozy and refers to the bedroom. When it comes to relaxation, I associate such a bathtub with decorated feet.
You can experiment. Factors such as moisture and how to effectively evacuate must be taken into account when making a decision, some good ventilation system. Bad smells would be a problem for me, so I would give up dealing with bulky matters in such a bathroom. It would serve me more as an oasis of relaxation, then it would make sense. You could put a whirlpool tub in such a bathroom. A set of bathroom furniture with a sink that would serve as a dressing table, a cozy wooden floor and a crystal chandelier.
What about steam and splashes? What about the water rushing when the other person feels like sleeping?? What about privacy?
I do not think so, that would be a good solution. What if someone accidentally enters the room? It would be nice to have a bedroom connected with a bathroom, which still has a hot tub and other wonders. The styling looks nice, but it is impractical.
It is a trend in interior design recently. Not everyone is convinced of this due to the varying degree of intimacy in these matters. What I personally propose is the complete separation of the toilet in such a solution, I mean smells. I like this solution, but more as a bath room, a nice bathtub and an oasis of relaxation after work before going to bed.
I am not a fan of this type of solutions and combining the bedroom with the bathroom, unless, however, some doors will separate them, even sliding.
It looks pretty cool with sliding doors, and it's practical, because you can use the bathroom, without waking the rest of the household and sneaking through the house in a bathrobe. No door – completely falls off, Yuck!
In modern homes, more and more often you can find a bedroom with a bathroom, which are becoming the standard. The combination of the bathroom and the bedroom makes it easier for us to use the bathtub in the morning and evening, or sinks, because we do not have to use the shared family bathroom and wait in line for our turn to the morning toilet.
I'm not a fan of this type of solution, everyone needs a moment for themselves, a relaxing bath and a bit of intimacy.