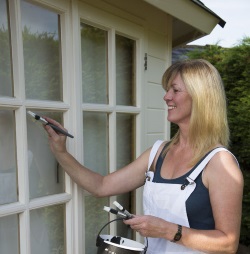 When is the best time to paint windows and what step-by-step rules to apply to wooden windows?
It is best to start painting the window frames in the summer, because you can then open the windows without fear and the paints dry faster.
The old paint coating is removed with an electric heat gun or sanded. If the window is repaired, the first method will be better, if mechanical removal of the paint is not sufficient. Need caution, so as not to disturb the impregnated wood surface (impregnation protects the frames from insects and fungi – if we destroy it, we will have to secure the wood again).
We only remove paint or varnish – damage to the outer layer of wood leads to unsealing of the windows.
The frames are painted at least twice, first with a primer, and then with a topcoat.
We spread the paint with the thinnest possible layer. After applying the first layer, you have to wait, until it dries, and only then apply the second one.