The connection between the roof and the attic with a three-layer gable wall extending above the roof surface.
The connection of a sloping roof with a three-layer gable wall requires flashing at the junction of the wall with the roof slope.. The flashing should be turned on the wall to the height of splashing rainwater, i.e.. about 30 cm.
In the case of a curtain wall made of grouted clinker bricks, the recommended flashing solution consists in inserting the sheets into the joint system in the curtain wall. The roof slope angle should correspond to the joint pattern in the curtain wall.
It is a solution that allows you to fully expose the clinker facade – an additional effect is achieved by the use of high-grade copper sheet. At the same time, however, it is the most complicated solution and requires great diligence in terms of execution.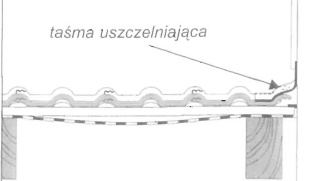 An alternative solution to connect the tile roof and the wall with a sealing tape.