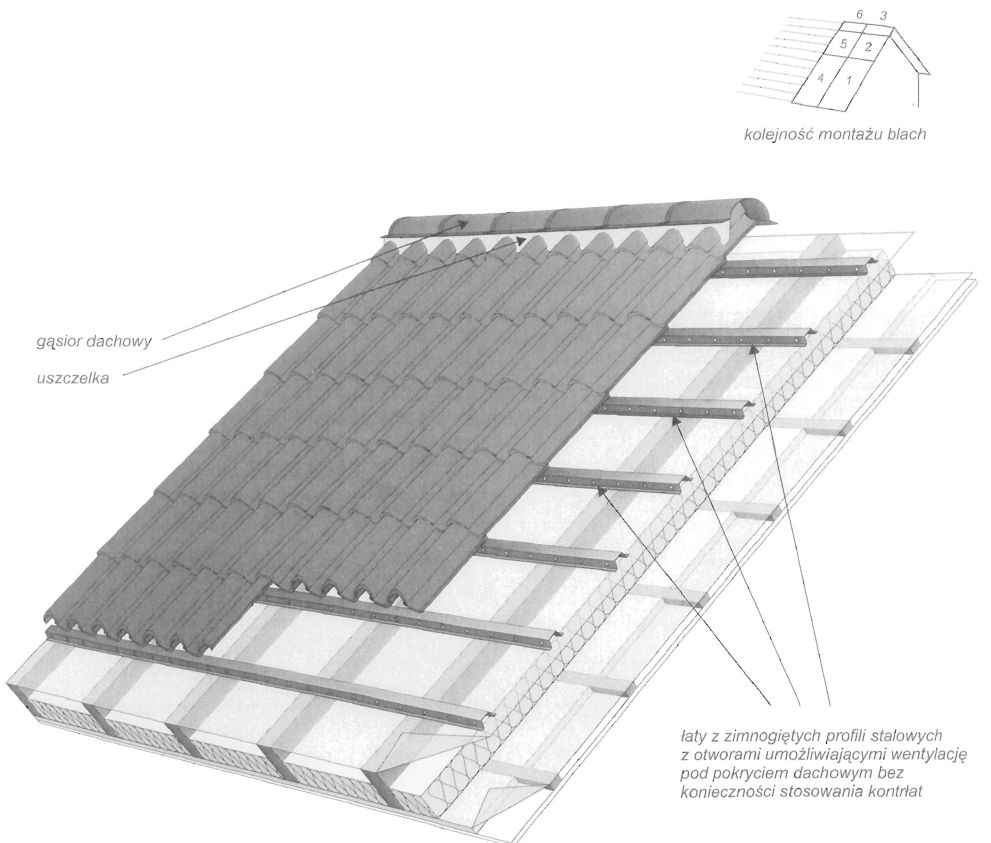 Roof covering made of roof tile-shaped coated sheets, mounted on battens made of cold-formed steel profiles.
Coated sheets are the most commonly used for roofing, made of high-quality steel coated on both sides with zinc coatings with a thickness of approx 275 g/m². Due to galvanization, the self-galvanization process takes place on the sheet surface, i.e. spontaneous zinc coverage of scratches and cut edges. The next layers are anti-corrosion coatings – passivating and priming. From the bottom, the coating system is finished with a protective epoxy layer. From the outside, the finish may be polyester, matt polyester, PVDF lub PURAL. This arrangement of layers ensures long-term corrosion resistance, sheet durability and color stability.
For fixing the roofing sheet roofing, it is recommended to use battens made of cold-formed steel profiles with holes allowing ventilation under the roofing, without the need for counter-battens.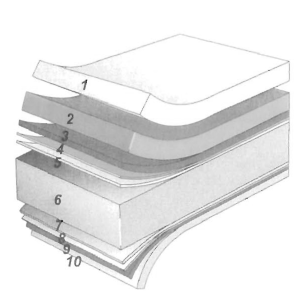 Coated sheet:
1,2)outer shell – types of coatings: polyester (external varnish with gloss), plastisol (to group . flexible and resistant to mechanical damage coating), PVF (high gloss pigment, ensuring hardness of the coating and durability of the color), PVF with clear varnish or with a metallic coating
3) underlay
4) passivating layer
5) zinc, min. 275 g/m²
6) steel plate
7) zinc, min. 275 g/m²
8) passivating layer
9) underlay
10) epoxy. internal protective varnish