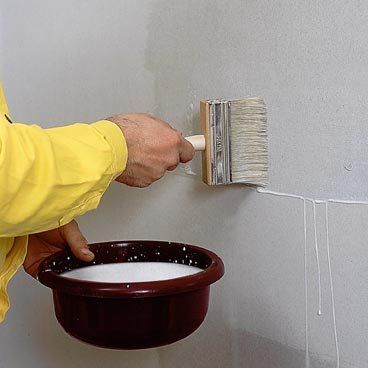 We begin surface preparation by removing all nails, hooks and screws from expansion pins and fill the holes after them. We don't putty these, which will still be used to hang items. The small holes are usually filled with acrylic putty. Bigger – putty for walls, purchased as a ready-made preparation in paint shops or made by yourself from gypsum paste.
If the walls and ceilings do not show major cavities and damage, are even and covered with old glue or lime paint, adheres well to the substrate, the surface must be thoroughly vacuumed, and then rinse with a brush or a sponge dipped in 2-3% painter's soap solution in water. It can also be primed with an undercoat paint. For walls previously painted with emulsion paint, it is worth using an alkaline degreaser for washing the walls, ceilings, wooden and metal surfaces.
Instead, we can sand the entire wall and ceiling with fine sandpaper, on a wooden block. Then vacuum them thoroughly.
Often surfaces – especially new, but also old, previously unpainted but used for a long time – require priming. Primer strengthens them. It penetrates deeply, and at the same time reduces the absorbability of the substrate. Priming is always required on plasterboard wall surfaces.
Small areas are primed with a flat brush 10-15 cm. For larger ones, use a bench brush, shaft or other large, ensuring quick work. You can also use a larger fur roller.
Before painting with a primer, the surface of walls and ceilings should be used with a hard brush, e.g.. rice, clean from dust and dirt, then vacuum it.
Surfaces, previously painted with resin-based paints, alkyd or oil (e.g.. lamperie), we should wash with Malartvatt or Malarsoda, then rinse thoroughly with clean water. Glossy surfaces should first be roughened with sandpaper.
Previously whitewashed or painted surfaces with glue paints must be prepared by scraping off old coatings and washing with water with the addition of painter's soap., and then prime with an undercoat paint. Surfaces, which we are to ground, they must be clean and dry. Dusty or covered with flaky, the old paint coating should be cleaned thoroughly and carefully with a sharp brush, down to a compact base, then vacuum and rinse with water.
Holes after pins and nails as well as smaller cavities and cracks in the surface, we can also repair with ready-made putties, applied with small steel or plastic putties.
Snabbfix Beckers putty can be recommended for this type of repair. It is a white-gray mass that hardens quickly, designed to repair both walls, and ceilings, as well as foundations etc.. Cold resistant, so it can be used outside the building. It is easy to apply and does not shrink. So it can be applied in thick layers. The entire cavity is filled with it at once, with a putty or steel float, and then aligns smoothly with the wall surface. When the surface becomes bright, you can start sanding with fine-grained sandpaper.
It has good adhesion to the substrate, so that nails can be driven into it, screw in screws and drill holes.
Manufactured on the basis of a special cement with the addition of polymers, it is a dry mix to be mixed with water at the workplace.
The putty can also be used to repair corners – the most frequently damaged parts of the walls. In the event of larger damage to the plaster on the corners, we can make the necessary repairs using other types of specialized assembly cements.