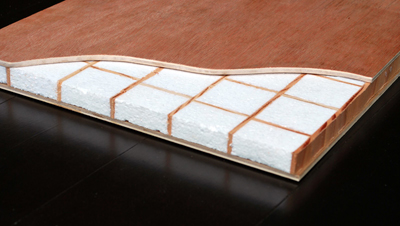 Soft fibreboards
Soft fibreboards are used most often in combination with dry ballast for the construction of the substrates. On the one hand, they are used to cover the granular insulating material (e.g.. from hot-swollen volcanic rocks), on the other hand, as a flat pad in the construction of the substrate, isolating from noise.
During, when the finished parquet can be laid floating directly on two layers of soft fibreboards, then carpet or PVC coverings require extra, a hard base, e.g.. made of chipboards or gypsum-fiber boards.
Gypsum-fiber boards
Elements of dry screed made of gypsum-fiber boards can be used easily and in many ways. They are approved as protective link structures and are suitable for finishing wet rooms. They are also considerably lighter than conventional wet screeds, only require a short installation time, they can be walked on immediately after installation and are suitable as a base for all types of floor coverings. In addition, they are good thermal insulation and protect against noise.
The elements of the gypsum fiber screed consist of two offset boards 10 mm and the hard foam layer underneath, insulating thermally and soundproofing. By circulation, The overlapping connection makes it easy to obtain a firm and flat connection with the adjacent panels. Gypsum fiber screed elements can be used in all types of laying, on floor joists or floating. They are fastened by screwing the boards to the base or by gluing the boards together in floating arrangement.
The processing of the boards may be performed by sawing, scratching, planing, drilling and grinding. No special tools are needed. Cool formats (50 cm on 150 cm) can be easily transported. Their weight depends on the thickness 17 do 20 kg and element. Gypsum-fiber boards without an insulating layer can also be purchased commercially. They are perfect for lining walls, wooden beam ceilings and sloped roofs. Fastening here is done with nails, with screws or stapling nails. The joints are grouted, and then closed with a special joint filler and lightly sanded.
Plasterboard
The plasterboard dry screed elements have the same advantages, what gypsum fiber boards. As sandwich panels, they have a heat and noise insulation backing made of a hard foam layer.
The ecologist gives birth
When finishing interiors with gypsum-fiber tiles, you should not be afraid of vapors of wood preservatives or formaldehyde.. The boards have the properties of resistance to animal pests and anti-humidity without additional chemical treatment.