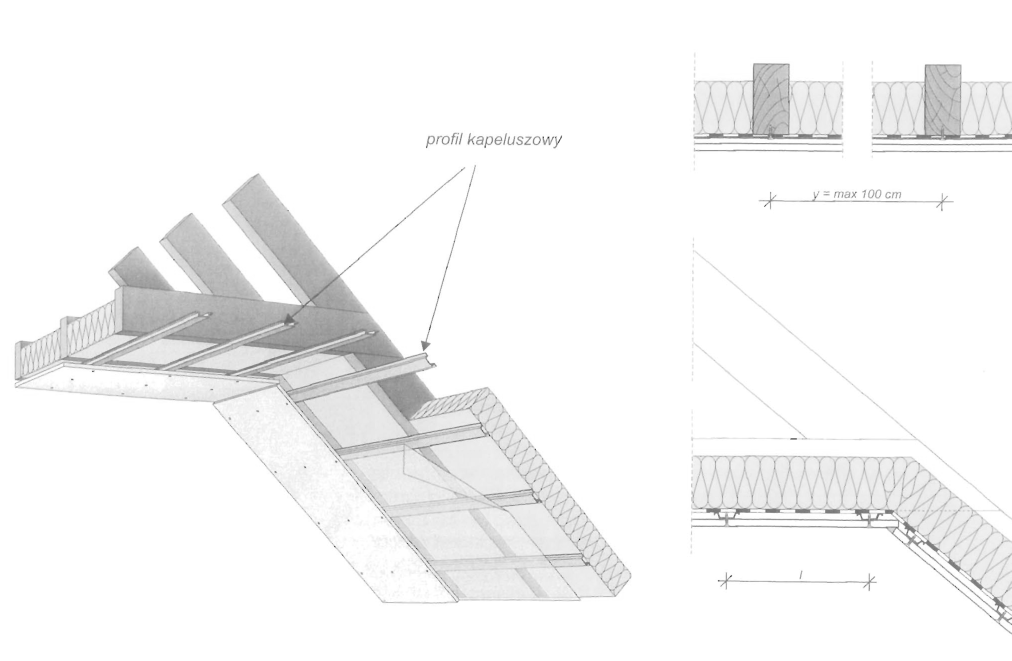 Installation of plasterboards on hat profiles.
Building the attic on a grate made of steel profiles
The paneling of the roof slants of attics is most often performed on a support structure made of system steel profiles. The supporting profiles of the construction made of plasterboards are more conveniently fastened perpendicularly to the rafters of the roof truss, fixing parallel to the rafters requires additional wooden battens.
Plate mounting systems available:
• Mounting on hat profiles – Fastening system directly to the rafters.
• Installation on CD ceiling profiles 60 suspended under the rafters:
– CD ceiling profiles 60 mounted on flexible grips or direct grips,
– CD ceiling profiles 60 mounted on anchor hangers to the wooden structure.
Similarly, when mounting the boarding on wooden battens, the paneling of the roof slopes can be made of a single layer of thick gypsum boards 12,5 mm or with a double layer of thickness 2 x 12,5 mm. The thickness of the paneling layer affects the degree of fire resistance of the building.
Drywall can be installed perpendicularly or parallel to the direction of fixing the profiles. Steel profile spacing, which should be adjusted to the width of the boards, depends on the direction of fixing the panels. The spacing of the profiles affects the fire resistance of the sheathing - the compaction of the supporting grate increases the fire resistance.
In the standard solution, with a single plate plate 12,5 mm, spacing of CD profiles 60 should be 40 cm. The rafter spacing can be as high as possible 100 cm.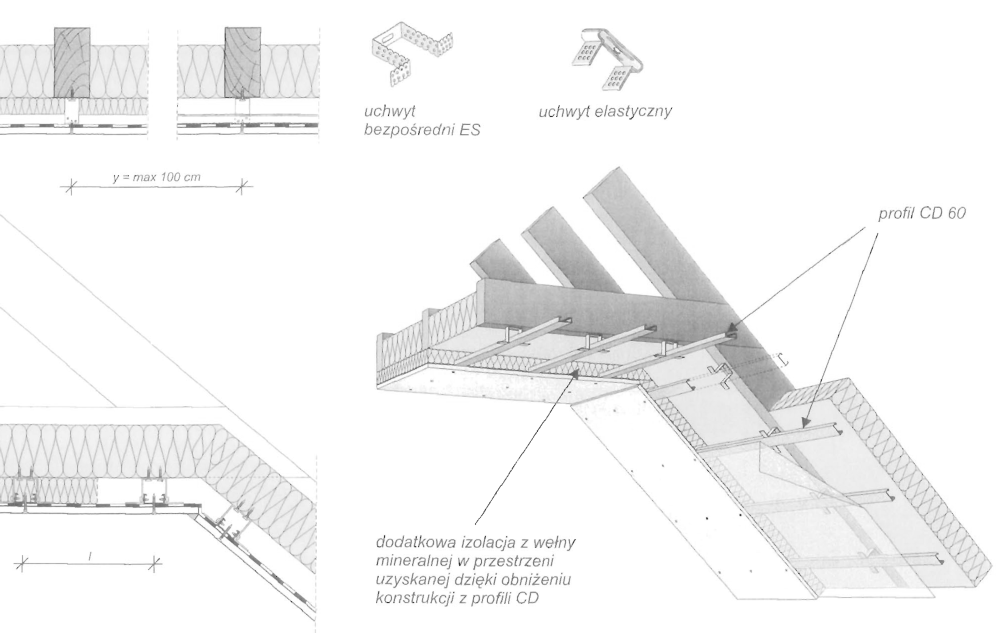 Installation of plasterboards on CD profiles 60 and direct handles ES and flexible handles.
Installation of plasterboards on hangers for a wooden structure.