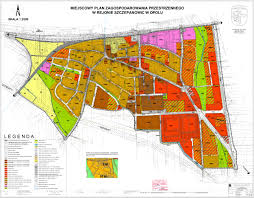 A good developer always has the local zoning plan in mind.
Local spatial development plan (pot. local plan, MPZP). Therefore, we are talking about an act of local law, which is adopted in the form of a resolution of the commune council, determines 1. Destiny, 2. A set of conditions for land development and land development, and 3. Specifies the placement of a public purpose investment.
The local plan is the basis for the spatial planning of the commune. It lays down rules generally applicable in a given area, being the basis for issuing administrative decisions (unlike college, which only express the operation of the commune's spatial policy). The local plan also changes the predestination of agricultural and forest land for non-forest, non-agricultural and non-forest purposes. (which should not be confused with de-agriculture, that is, the exclusion of land from agricultural and forestry production).
The local spatial development plan is conditioned by the inability to go beyond the administrative boundaries of the commune, it may, however, cover only a certain part of its area. It must be noted, that different local plans may apply in the commune, their boundaries cannot overlap. The plan may not violate the findings of a particular study, which is stated by the commune council prior to its adoption.
The authorities drawing up the local plan include the commune head (rural communes), mayor (municipal or urban-rural communes, or the city below 100 000), City president (cities with the numbers above 100 000 residents or being the seat of the province before 1 January 1999 year).
The local spatial development plan is adopted by the commune council (city ​​council) and is announced by the voivode in the provincial official journal.