Laying mosaic tiles
Ceramic mosaic tiles are glued onto mesh or paper and sold in sheets. They are glued to the wall with ordinary ceramic tile adhesive. Sticking the edge tiles and cutting to unusual shapes should be left at the end. As with ordinary ceramic tiles, good is extremely important when sticking a mosaic
spreading, which we start with marking out vertical and horizontal guidelines. After applying the glue to the wall, stick sheets to it. Tiles overlapping corners and other obstacles should be cut and glued separately.
If the mosaic tiles are on a sheet of paper, leave it there until the glue dries, and then apply the jointing compound and press it into the gaps between the tiles. All small gaps can be filled with adhesive.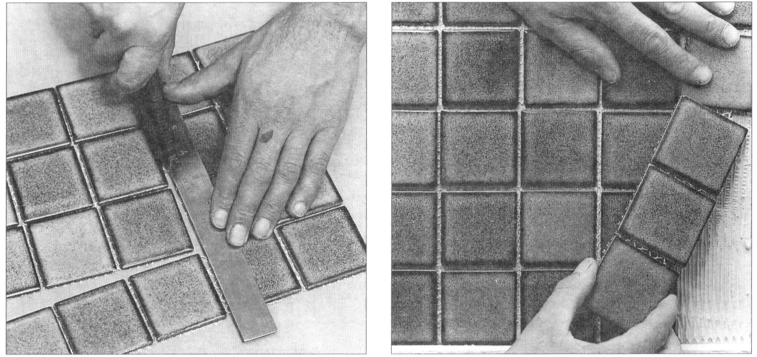 Fixing the perimeter plates
1 When the main part of the wall is already covered with tiles, you can start trimming the edge tiles and tiles overlapping the wall-mounted devices.
Measure the length and width of the unfilled wall sections, then turn the sheet over and mark the cut line. Use a sharp knife to cut through the mesh or paper.
2 Apply a layer of glue to the wall and put the cut strip in place. Check it out, that the edge tiles are flush with the tiles glued to the side. If there are any empty spaces left, tear off individual tiles from the mesh of paper tubes and stick them on the wall. In general, it is not necessary to cut individual tiles.