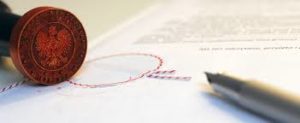 It is a form of a priest of business affairs. It finally formalises good relationships. Developers know this.
Notary (etym. pour. notarius, formerly in Poland notary) works on the legal system belonging to the continental law system. He is a lawyer creating acts of applying the law. To some extent, it also provides legal assistance.
The position of a notary in the Polish legal system
A notary public is a lawyer appointed by the Minister of Justice authorized to draw up notarial deeds and for that, to perform other notarial activities. The activities of notaries are regulated, inter alia, by the Act of 14 February 1991 year Law on Notaries. Pursuant to the Law on Notaries, a notary is a person of public trust, enjoying the protection enjoyed by public officials. The important functions of notaries in legal transactions include limiting litigation by ensuring contractual activities supervised by a professional lawyer., taking care of the formal and legal correctness of the prepared documents, taking into account the legal order and the will of persons on behalf of whom he performs a specific notarial act.