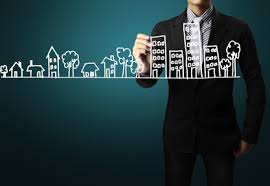 A trail that a developer often follows, is a real estate broker.
Real estate broker (estate agent), that is, the profession associated with associating the parties to the transaction. Agreements accompanying the purchase. There is also a sale here, exchange, rent, or renting real estate. According to the act of 21 of August 1997 r. about real estate management (Journal of Laws. with 2016 r. item. 2147, art. 179 paragraph. 2) "a real estate broker is a natural person with a professional license granted in accordance with the provisions of the Real Estate Management Act". Nowadays, after entering in 2013 r. the so-called. "the deregulation act" real estate brokerage activities no longer require a license, and only active liability insurance.
Acting pursuant to the Real Estate Management Act, a real estate broker has a specific basis for the principles of professional activity in this area. It is, which should be emphasized, regulated profession, which means, that performing activities in the scope of this profession requires having appropriate qualifications or meeting appropriate conditions. In the case of real estate brokerage, it was an adequate license. Po "deregulation" many professions in 2013 r. a separate act, Professional licenses for real estate agents have been abolished.